Studded Finned Tube Energy-Efficient Heat Exchange Component
Product Detail
Product Tags
● Finned Tubes Outside Diameter: 1" to 8"
● Fin Thickness: 0.9 to 3mm
● Studded Tubes Outside Diameter: 60 to 220mm
Steel studded tubes are used instead of finned tubes for heat transfer in the petrochemical industry, generally in furnaces and boilers where the surface is exposed to a very corrosive environment and where very dirty gas streams require frequent or aggressive cleaning.
Studded tubes are a type of metal tubes. These tubes have studs welded onto the metal tube.
These studs are arranged in a specific formation throughout the length of the tube.
They are often used in boilers and refineries. As they increase the surface area for higher heat transfer they are used for reheating.
Studded Tubes are applied to convection chamber of heating furnace in petrochemical industry to increase the heat transfer coefficient at the fuming side. Studded Tubes are two or three times the square of light Tubes. Due to the usage of studded Tubes, the hot strength can be obtained as the same as radiation in the reasonable design. Studded Tubes manufactured by our company adopt resistance welding method. Welding process is controlled by PLC program. Feeding motor and graduation use servo motor. Studded number can be set via the human-computer interface. The graduation parameter and compensating coefficient can be set according to technical requirements to ensure the quality and precision of products.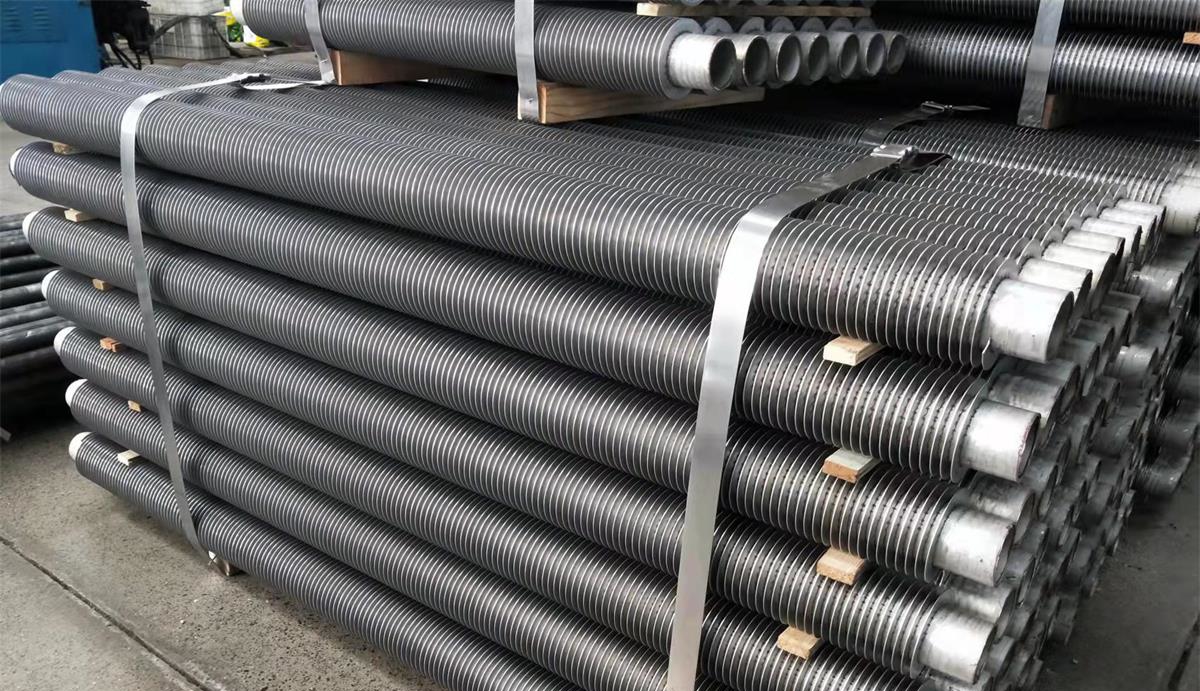 ★ Tube O.D.:25~273 (mm) 1"~10"(NPS)
★ Tube Wall Thk.:3.5~28.6 (mm) 0.14"~1.1"
★ Tube Length:≤25,000 (mm)  ≤82 ft
★ Stud Dia.:6~25.4 (mm)  0.23"~1"
★ Stud Height:10~35 (mm) 0.4"~1.38"
★ Stud Pitch:8~30 (mm)  0.3"~1.2"
★ Stud Shape:Cylindrical, Elliptical, Lens type
★ Stud to tube surface angle:Vertical or angular
★ Stud Material:C.S. (most common grade is Q235B)
★ S.S. (most common grade are AISI 304, 316, 409, 410, 321,347 )
★ Tube Material:C.S. (most common grade is A106 Gr.B)
★ S.S. (most common grade are TP304, 316, 321, 347 )
★ A.S.(most common grade are T/P5,9,11,22,91 )
1. The equipment is used exclusively for the welding of studded tubes. The studded tubes produced using this equipment is an energy-efficient heat exchange component. It is characterized by high heat transfer efficiency and high bearing pressure, and best adapted to high temperature areas. It is mainly used in waste heat recovery, petrochemical, heat exchange systems of power station boilers and other industries.
The application of studded tubes in heating furnace convection chamber of petrochemical industry can increase smoke side heat transfer coefficient. The area of studded tubes is 2 to 3 times that of light tubes. Under the condition of reasonable design, using studded tubes can obtain the same heat intensity as radiation.
2. Studded tube is an integrated heat exchange part processed using power frequency contact type resistance welding and upsetting force fusion welding.
3. The equipment adopts dual-torch metal tumor-free welding. Stepper motor is used for stud head division; and linear guide uses machine head slide. Welding precision is ensured.
4. The studded tubes welder is a mechanical-electrical integrated welder. The electric control part adopts PLC program control and man-machine interface parameter setting, and the operation is simple and reliable. The welding parameters adopt single board computer settings. Its performance is stable and convenient.
1. Rated input capacity: 90KVA
2. Rated input voltage: 380V±10%
3. Diameter of welded steel tubes: 60-220mm
4. Diameter of welded studs6-14mm (and other abnormally shaped studs)
5. Effective length of welded steel tubes: 13m
6.Axial spacing of welded studs: can be freely adjusted
7. Arrangement of radially welded studs: even number
8. While welding stainless steel materials, preheater is required (made by user self).
---
---
Write your message here and send it to us